BlueBio Commercialization support e-coffee meeting on Zoom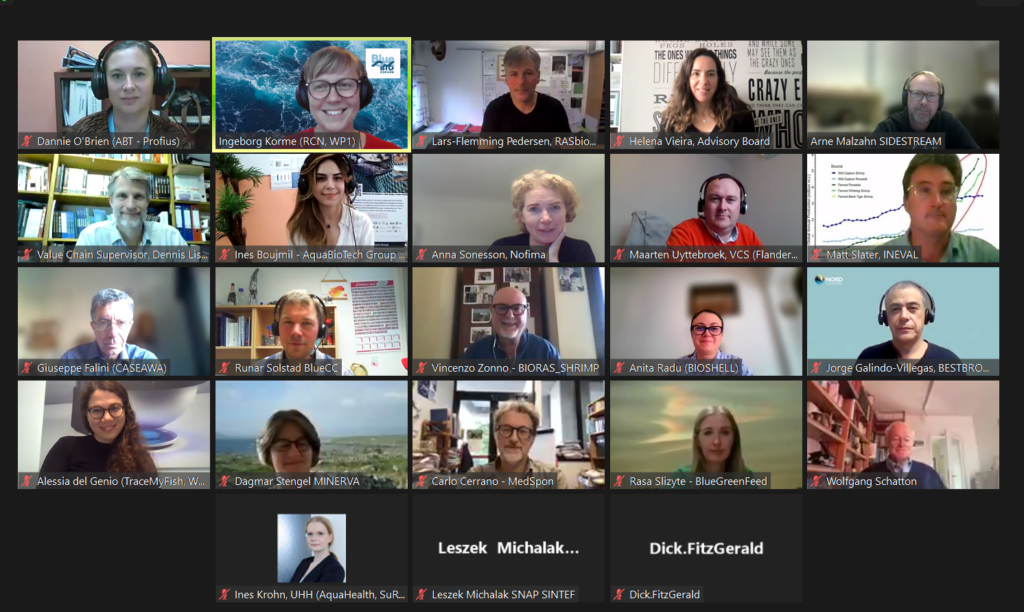 26 BlueBio funded projects met to discuss opportunities for commercialisation support, as the first cohort of projects are entering their final year. This event was the fourth thematic "e-coffee" meeting organised by the BlueBio ERA-Net.
The objective of the meeting is to map the commercialization needs and interests in the projects funded by BlueBio and provide guidance and support. BlueBio can offer different forms of assistance to the funded projects (e.g. support in the organization of training courses, workshops, webinars, etc.) and refer the projects further to other resources.
Value Chain Supervisor Maarten Uyttebroek presented the results of the survey and opportunities and initiatives including EIT Food, Bioeconomy Ventures, and BlueInvest.
Five projects (TraceMyFish, PROFIUS, RASbiome, InEVal and MedSpon) gave pitch presentations with a focus on "What is needed to bring my project to the next level?" To better understand the barriers to commercialisation for the BlueBio projects. The PROFIUIS pitch covered the commercialisation goals, including the commercialization of the knowledge about fish meal and fish oil from tuna by-products with fish feed company partners, especially following the fruitful training and knowledge sharing with our esteemed partners from DTU.
The 38 participants were divided into groups to discuss their next steps, how BlueBio could support them and how they plan to increase impact and market readiness. During the discussions, barriers were identified and discussed with generous contributions from BlueBio Advisory Board member Helena Vieira. For example, market analysis requires collaboration with an industrial partner, but it is often difficult to engage industry in early stages. It was also noted that taking a product or solution closer to the market is not only an issue of competence (scientific, technical etc), but of the availability and interest of the individual researchers in a project. If researchers are not driven to commercialise their work, how is the product brought further? Finally, regulatory constraints surrounding novel ingredients increase risk and uncertainty, and impact development and innovation.
For more reading on BlueBio Co-Fund